archive.
4/25/99
Burt Reynolds Band! Two new members: Dr. Thunder (of Dump Truck and the ill-fated Mandible Claw) and dirty old man Jeremiah Koch. Thunder plays (THUMP!) bass, Uncle Jeremy makes that guitar his bitch.
Updates to the BRB page will come soon enough, junior. In the meantime, keep yourself occupied with this
4/22/99
The Pie band index is now seperated into three categories: bands that are currently active, side projects, and Pie Legends. Defunct links and inactive projects have been eliminated for the time being. Dump Truck will have whole LOTSA new sounds up soon. You haven't heard rock until you've endured Dump Truck.
"See my dick!"
4/21/99
No Senior Skip Day show. Rev. Soultrain's big amp blew up, he didn't want to use anything else, pretty much everyone had to work and the rest of us (myself included) thought it'd be funny to just not show up or call.
Ha ha.

4/09/99
Hey wow! Rockster Tom Smith (of the seldom imitated, never duplicated rawk juggernaut To Live & Shave in L.A.) has exhibited interest in producing the new Burt Reynolds Band album! He's gonna come all this way, from his home in New Jersey to JONESBURG fucking Missouri to help us Pie kids out. Man. . that is NEAT.
While you're here, you might as well check out his band's webpage.
http://www.menloparkrecordings.com/recordings.html
Poke around until you find To Live and Shave in L.A. Oh yeah, you'll need some form of Shockwave in order to fully enjoy the TLSILA experience. And, once you hit the To Live & Shave webpage, you must definitely see Tom's Man About Town column. Ees berry good!
Oh man. . speaking of berry good, rumor has it that some ludicrous piece of shit "punk" band called Boy Meets World will be worming its way up into the Pie ranks. God only knows. .
But seriously, the guys behind BMW are swell, and whatever this project yields is bound to be an exercise in true stupidity, old skool style.
Oh, by the way, this month's bit of recommended culture is:
ANYTHING pertinent to Nosferatu. If you are unfamiliar with Nosferatu, then you are a dum-dum.
Where have you BEEN, man?
The first and widely believed to be the most interesting vampire in movies,
Nosferatu looks something like this: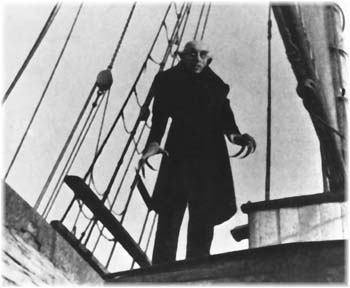 The 1922 silent film (Max Schreck is the creepiest motherfucker that ever lived. And that ain't no shit. Just watch the movie. .), the 1979 remake of that film by Werner Herzog (which some people absolutely fuckin hate, but I don't know, call me a pretentious twat but I rather like it, even with Klaus Kinski acting like an asthmatic pussy for most of the movie), the sequel to Herzog's Nos entitled "Nosferatu in Venice," in which Klaus cleans up his emo-vamp act from the first one by whupping ass like a true denizen of hell should, and the ceaselessly entertaining DC Comics graphic novel "Batman: Nosferatu. ." all of these things are definitely worth checking out.
That is all for now. It is late, and I partake of nothing at this hour. . .


4/07/99
The guy that is mostly responsible for building this website, Mr. Jaspering, has been awfully busy recently, with the end of senior year coming up and him having done absolutely nothing at all towards getting any school work done. That, and he's not too handy with computers either. Because of these two factors, it will be some time before the new Regal page can be accessed via the band index page. In the meantime, here is a preliminary version:
https://members.tripod.com/~pierecords/regal1.html
Apologies to Mr. Regal. Your page will be complete soon.
We are preparing a suitable lineup for the 1st Annual Pie Fucking Showcase. Pie Records rocks the free world for Senior Skip Day.
A terrific band called Arab on Radar is coming to St. Louis. For more info:
http://www.tp.net/tp/users/jschneider/

3/30/99
Well, shit got fucked up. But, it all turned out for the best!! For us, anyway. The bands, after arriving a tad later than expected (which was, by no means, their fault, as R.J. gave them retarded directions that didn't include the fact that Jonesburg is some 70 miles from St. Louis. our bad. . .), were gracious enough to play in the Pie Studio for pretty much. . us. Yeah, all the dumb shits that run Pie Records, they played a show for us. And it was the best rock show we've ever seen. That is NO exaggeration. THE best. 25 Suaves played manic improv noise and death-defying funk. They put their hearts and souls into every squealy, skronky, rump-shaking "note." GOOD shit. Spaz out super.
Umiyei (I hope I'm spelling it right) was the Party Girl sensation of the decade! Yes!
We couldn't tell what the hell kinda noise Mr. Velocity Hopkins (of the mighty Couch musical ensemble) and Brother Lee (Velocity's long-time good buddy talented musician friend) were making with their guitars. Were those even guitars?! No, those were MIGHTY machines with limitless destruction power. No mercy! Boy, can that Hopkins dance. And Brother Lee mercilessly assaulted a wheelchair. And THEN. . came the King Brothers. Oh yes. They've opened for Jon Spencer Blues Explosion (blew them fucking away, which is pretty hard to do), they've opened for Guitar Wolf (and blew the shit out of them as well, also no easy task), and they are the best band in the world. Yes. They are. Absolutely not giving a shit about anything at all is what King Brothers is all about. They jumped off the grain trucks we have in the shop, they flipped and fell and spazzed and jumped and screamed and hollered and rolled around and just went absolutely fuckin nuts. And didn't miss a note. Not one. Well. . maybe a few. Especially when they handed the guitar to R.J.. Why?! Oh man. It was neat, though.
The Brothers got down and dirty with the rock and roll. (literally! their once impeccably clean suits got all dusty and raggedy, but they didn't seem to mind, or even notice.) The Parlimentarian and R.J. fucked shit up grand royal, somersaulting and catapulting onto all sorts of foreign objects with the least regard for their own personal safety, or anyone else's. But, enough about us. Back to the real deal. King Brothers flowed seamlessly from song (?) to song, with no other focus or motivation than pure rock and roll. They WERE rock. Those 3 Japanese guys (Jun, Maya, and Keizo) WERE rock and roll. Period. Bulb will be selling VHS tapes of its Bulb Invasion tour, and it will feature exclusive footage of us acting dumb and them, rocking out as only they can. We'll have some pictures up soon, who knows maybe some RealVideo clips of that crazy shit. Our utmost and sincere thanks go out to King Brothers and 25 Suaves (for coming all the way out to JONESBURG, hooking us up with free shit, and for tolerating Parlim and R.J.'s absurd performance art antics), and to everyone involved, especially Cookie and Adrian, who set up and tore down and set up again, and bought the soda, and were through and through chums. Thanks everybody.

3/28/99
NOW HERE'S SOME FUCKIN NEWS. The mighty Bulb Records has collaborated with Pie Multimedia (I don't fuckin know. . we fuck with all kindsa shit, so it's multimedia. okay?) in order to put on a rock fiasco with the King Brothers and 25 Suaves, in Jonesburg Goddamned Missouri! WHERE?!! Exactly. This thing is happening Monday the 29th. We'll have pictures and what not up soon, from that thing. Oh. .
3/19/99
3 new CD releases! One: Dave & Kyle's "Fun With Books." No wave assault! 2 guys, box guitar, snare drum, ice cream bucket, and some encyclopedias. Cover design by 4 year old Tim Matheson, of Foristell, Missouri. Two: Regal, "Hi-Fi, Lo-Fi, No-Fi." This album is some phunk-ass. Regal's got stoopid flava, mixing seamless rhymes with. . with something. It's neat. Trust us. And last, but certainly not least, we come to number three, which is "MISC." from MC Honky and The Rockers. MC Honky (formerly known as MC Honky Buttfuck, until there were some copyright issues with another MC named Honky Buttfuck) and his band of musickal misfits throw together a fine blend of stupid and moronic. Snagglepuss and The Herculoids make a guest appearance. Also, look for an upcoming Pie release from PEN15, the teenage terror crew fronted by our buddy Scott Z . Or not.
Soon we will have a page up telling you how to go about ordering these and other classic pieces of (?). Until then, please send any inquiries about ordering to pie_records@email.com, or topie@stopdropandroll.com. These things are relatively inexpensive, 4 bucks per cassette, 10 bucks per CD.

3/14/99
Pie put on its first ever "Pie Blastoff?!" show at Mid Rivers Mall, outside the theatre where all the stupid goths and skanks sit and smoke. Featuring members of Mandible Claw and Burt Reynolds Band, Pie Blastoff?! lasted about 4 minutes and consisted of the Pie crew throwing things and yelling, plus acoustic guitar and trashcans. Hatecrimes did a couple of retarded flips, one of them onto his famous trashcans.
A night to dismember. . . In other news, Arms has a new album finished, it's without a title but is produced by Jim O'Rourke and deals with the origins of the 2 experimental noise-making robots. Some of those defunct links on the bands page will soon link to actual pages you can look at and eventually forget about.
3/10/99
One of these days in the near future we're going to turn this bullshit website into a full-blown catalog.

3/8/99
The Burt Reynolds Band is currently working on a new album, tentatively titled "Modus Operandi."
Some of their best/worst shit ever, including a terrific re-working of the Burt Reynolds theme, a cover of Ike and Tina Turner's version of "Proud Mary," and some bizarre, stupid instrumental called "Electronic Slave."

3/5/99
Well shit. The 1st Annual Pie Fucking Showcase has been rescheduled. For when? We don't even know.
Somebody PLEASE pick a definite date, if you want us to rock your asses off. Okay?




















\