Joe is J. Sublette's brother.
He makes terrific guitar music, and is an all-around neat guy.
We here at Pie recognize and appreciate Joe's contributions to such projects as That Retarded Jimmy Kid and the recent Arms of Vishnu album.
Thank you Joe.
Aside from working hard and paying bills, Joe has frequent musical collaborations with Pie supporter Steve Robeson, of the fabled Retarded Cowboys musickal fiasco. As with everything here with Pie, the sounds of the Joe Sublette Funk Machine are not up-and-running. Joe likes Korn, Sevendust, and Ministry though, so that should give you some indication of his work.
HERE'S a picture of Mr. Joe, rocking out in the mix with fellow TRJK alum Kyle "Regal" Riddle.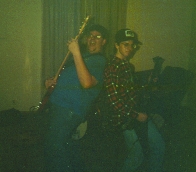 Joe's the one on the right.